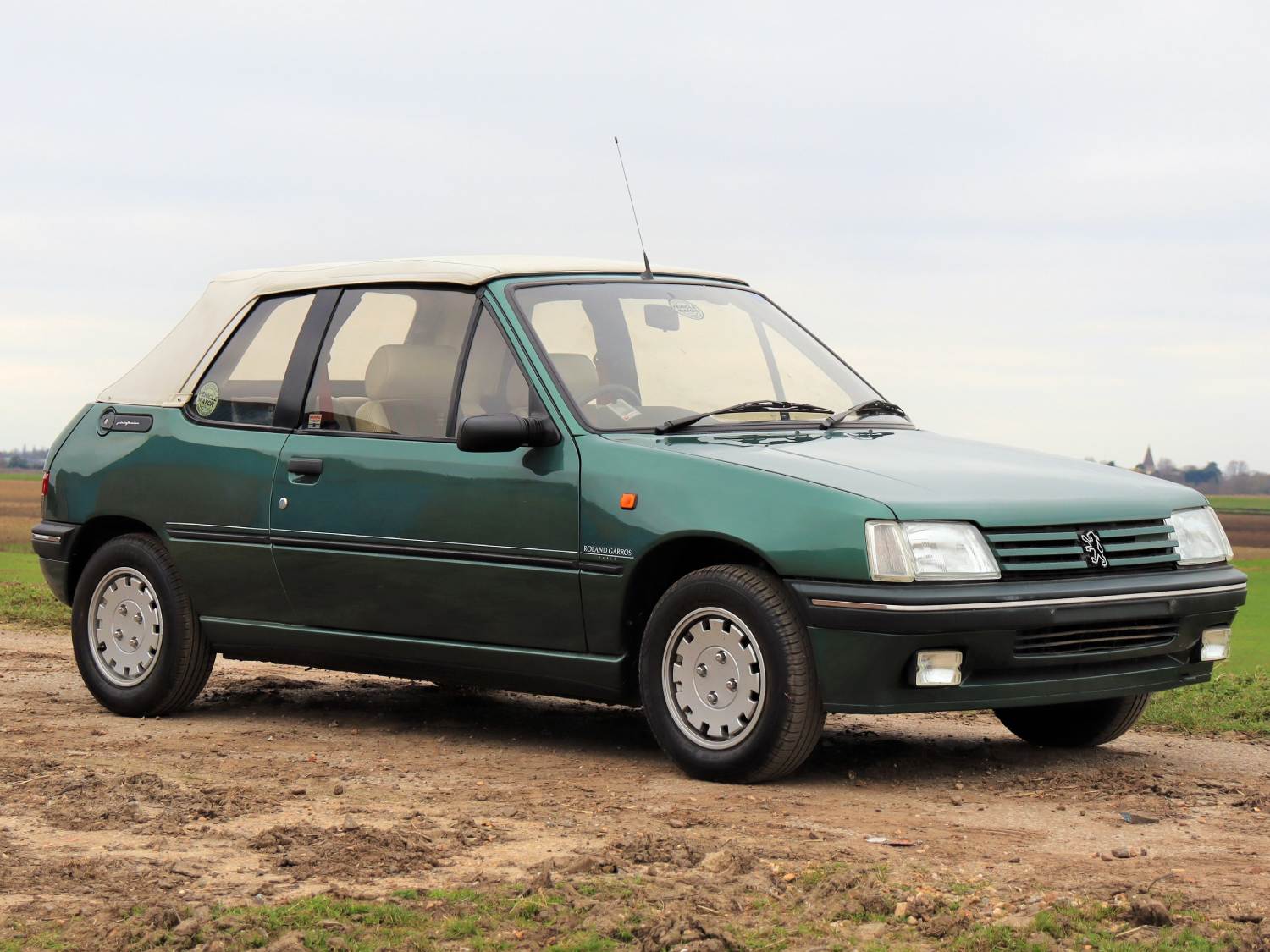 Only 15,200 miles from new
Retained by the first owner until 2011 and only two subsequent keepers1 of just 150 UK-supplied, right-hand drive examples of the limited-edition tennis themed model
Supplied new by Peugeot main agents, Castles Motor Company of Leicester
The French manufacturer's second attempt at the 'super mini' concept, the Peugeot 205 arrived in 1983, winning What Car? 'Car of the Year' award in 1984 and being voted 'Car of the Decade' by Car magazine in 1990. In 1989 Peugeot commenced its ongoing association with the Roland-Garros stadium in Paris, home of the French Open tennis tournament; the first models to feature in the programme being the Peugeot 205 and 405 estate cars. Ever since, all the special Roland-Garros series have featured a visual identity inspired by the world of international tennis. Built by Pininfarina alongside the Ferrari Testarossa, the 205 Cabriolet cost more than £12,980 when it was new, with a limited production run of just 150 Roland Garros editions ever being produced for the UK market.
The Roland Garros was well-specified, featuring special edition paintwork and interior, Roland Garros Paris decals, body-coloured bumpers, Pininfarina side badges, an electric hood, tinted glass, laminated windscreen, front driving lamps, electric front windows, and central door and tailgate locking. The example offered was manufactured in 1991, and is one of the 150 supplied to the UK market, being supplied new to the first owner via Castles Motor Co. of Leicester, and first registered on the 1st of August that year. Finished in the Roland Garros colour scheme of Pinewood Green paintwork with the White, Grey, Green and Red cloth/leather interior upholstery, and White hood.
Fitted with the 1360cc straight-four engine allied to the five-speed manual transmission, the Roland Garros is offered for auction with a mere c.15,200 miles on the odometer, with the Peugeot being retained by the first owner until 2011, passing through one additional owner, prior to acquisition by the vendor in 2018. 'J402 JUT' is due to be freshly MOT tested in time for sale. Accompanied by a history file that includes the book pack presented in the wallet, containing the original stamped service book and handbook, the file further contains copies of all previous log books, and previous MOT records. Surely, with such low mileage and ownership, this Roland Garros presents an unmissable opportunity for the collector or avid Peugeot enthusiast!
All viewings by appointment only.
Contact us to arrange your viewing using the form below…
An old-fashioned phonecall works too! Call Ross on: +44 (0) 7790 007087